2015-01-30 in Uncategorized
How do you convert men with a wimpy, limp dicks into a full hardon hungry-for-some-vagina animals? Mother nature has already been working on that technology for many millions of years, so I need not go into any details here.
Here I want to talk about the Internet, the World-Wide Web, and machine-readable information. But first let me give you a little piece of eye candy: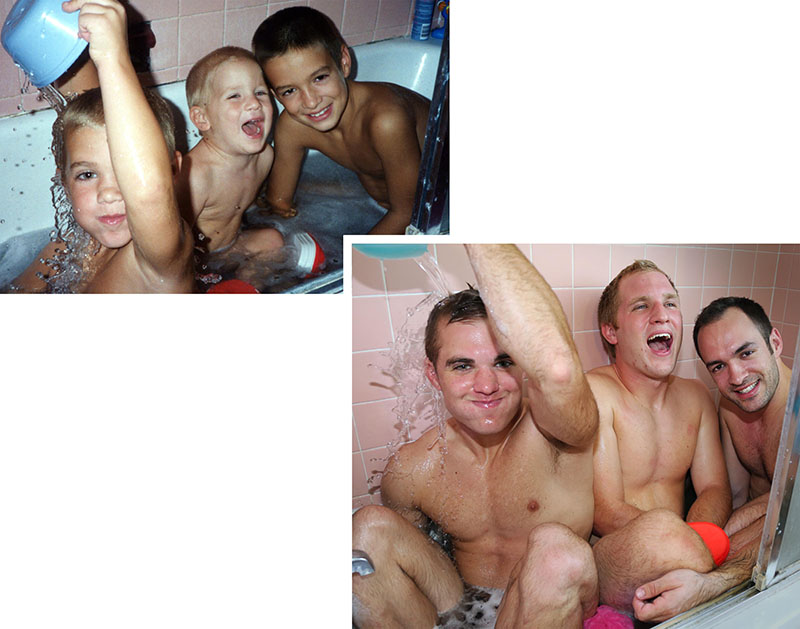 Please go ahead and "mouse-over" that image to see the link to its source (it's at this website: sunnyskyz.com). A machine cannot tell that this is a picture — or rather: two pictures — of three naked boys and three (pretty much) naked men… — but I presume you (whom I also presume to be human) can. The string "sunnyskyz" also means nothing to a machine — in contrast, for example, to the phrase "bright future". The promise of the "computationally" meaningless (and "misspelled") string may — in contrast — be very meaningful to the foolish and gullible human seeking some satisfaction this very moment.
During the 20th Century, a lot of marketing and advertising was about getting and converting the attention of foolish and gullible humans. In the 21st Century, we now also seek to convert another animal: the machine.
Today, many machines exist — and they are used by humans quite often to help make decisions. One very well-known machine goes by the name of "Google". The Google machine comprises many things, including what is known as "an algorithm" but also the less well-known servers that suck up huge amounts of energy to keep the complete system running like a charm. Most people see Google as an empty box that wants to be filled with words, or brand names, or at least something… but behind that box is a whole bunch of technology, some of it being software, but also a significant amount being hardware.
Information scientists sometimes refer to such machines as if they were humans — for example: ascribing them the ability to read. The stuff such machines are considered to be able to read is called "machine-readable information". This set of information is not forever fixed in time, but I can confidently say that it will probably remain limited to what is commonly referred to as "text" for the foreseeable future. The way most machines can tell the difference between the meaningless "sunnyskyz" and the meaningful "bright future" is by having humans describe the difference to them (for example: linguists like Noam Chomsky have described "rules" for what humans consider to be meaningful expressions, and these rules are then converted into "machine-readable code" — another type of text that machines can understand).
Different machines will apply different algorithms to "figure out" different answers to the same question. And increasingly, many of the most popular machines will even each individually give different answers to the same question posed by different users (aka humans), or even by the same user at different times or in different locations. Some of these machines even work together in groups — such as "Facebook" and "Instagram" (and a bunch of other related machines, including e.g. "internet.org").
The crux of the human-computer-interface in the online space (i.e. the parts that are "connected to the internet") is natural language (which has been "taught" to machines via hardware and software algorithms). Humans talk to machines — they "call them up" — by calling them by their names. They usually ask different machines different questions… — and the questions they tend to ask follows a similar semantic language. They might ask "Cars" about a car, they might ask "Hotels" about a hotel, and so on. At the moment, 9 out of 10 (or even more) humans ask only one machine — or perhaps only a couple machines — almost all of their questions … much in the same way as people in ancient times would ask an oracle, or maybe a religious leader, all of their most pressing questions of the moment.
Yet there are many signs on the horizon that this level of naiveté will not last very much longer. Competition among machines is increasing and will continue to increase, and machines will develop their own specialties — much in the same ways as smiths became know as "Smith", and millers became "Miller" — and humans will increasingly go to the specialized machine that best suits their needs at any given time, in any given location, and according to the language humans have devised their machines in.